Our Lady Help of Christians Academy
Home • Online Registration • Academic Calendar • Guardian Angel Fund • Tuition and Payment
Forms & Links • St. Isidore Website • Contact Us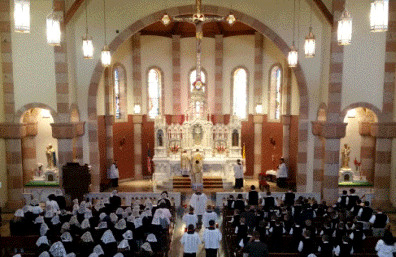 OLHCA offers Traditional Catholic education for all children from Kindergarten through 12th grade.
"True education is the consummate union of sanctity and intellect." - St. Thomas Aquinas, patron of Catholic schools.
Our Lady Help of Christians Academy strives to educate its students in accordance with this principle. We instruct them in the Catholic Faith while providing a structured and disciplined environment that allows for academic excellence at all grade levels.
Announcements:
School Picture Day - Lifetouch will be taking student and staff pictures on Thursday, October 13th. Parents will be able to order pictures online. Please see the information which was sent home with your children.

Scout Meeting - Also on Thursday, October 13th, Fr. Dailey will meet with the Christ the King Scouts after school and until Benediction. This meeting is for the lower school students (with upper school assisting). Please send dinner with your children.

Bennett Fire Department - Will be visiting with the lower school students at the school on Friday, October 14th for Fire Prevention Week. Please sign and return the permission slip which was sent home with your children so that they may participate in the day's events.

PSAT/NMSQT For Sophomores and Juniors - This test will be administered at the school on Wednesday, October 19th. The fee for this testing is $14.00 per student; checks may be made payable to the school. (These tests are not mandatory.)

Priests' Meeting / February Break -The dates for this year's February Break have been determined: Monday, February 20th - Friday, February 24th are the dates for this year's Priests' Meeting, there will be no school during this week. An updated Academic Calendar has been sent home with your children and has also been posted here.

Box Tops - Another successful week for the Box Top Store! Please consider volunteering your time to help with this fundraiser. Sign-up sheets are available at the school office.
____________________
SSPX-Denver, CO, Inc. • St. Isidore Catholic Church • Our Lady Help of Christians Academy • 32100 E. Colfax Service Rd, Watkins, CO 80136 • 303-344-5830